Usage
TverTrip is for car, motorcycle and quad competition, which established the route using the road book (other names: roadbuk legend). This rally, the rally of the third category, the trophy-raids and rally-raids.
The 3rd category rally
The 3rd category rally - road competition, taking place wholly or partially on roads open for the public use and includes a number of additional competitions, taking place on public roads.
Rally Raid
Rally-raids are more often held in a linear format. The distance is not repeated for the special stages that increases the difficulty of the route.
Trophy Raids
Trophy raid - a competition to overcome off-road, usually on four-wheel drive vehicles (SUVs), off-road motorcycles, ATVs. As a rule, in the trophy-raids, in contrast to auto racing, the distance time is not so important - you just need to meet the test time. .
Rally
The Dakar Rally owns the greatest interest of the audience. Despite pilot threre is a navigator in rally (freight carriages has mechanic also), responsible for navigation.
See all
News
08/01/2019
The results of the "Silk way 2019"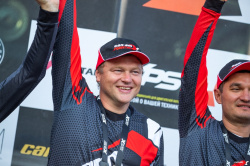 06/17/2019
Irek Minnakhmetov and Evgeny Pavlov won in the category "Absolute"